Webopal

Australian Opal from Coober Pedy

Outback South Australia
Loose Gemstones Rough opal Opal Jewellery
Coober Pedy Prospecting/mining for opal LINKS Christian Sites Good Health desertaustralia
Five Day Coober Pedy weather forecast with Moon Phases and Star Charts.
For what shall it profit a man, if he shall gain the whole world,

and lose his own soul? - Mark Ch 8: v 36.
desertfireopal.com
Fossicking for other Gemstones - Sapphire
News
Click here for "The Australian" or "The Advertiser" or the "Trading Post" or "The Age"
Click here for a media links directory for all countries
---
Useful links
Outback travel information Time and date for anywhere..
---
"After living like a rabbit under the ground for 20 years, now I want to live like a spider, on the web."
---
Q: What did one spider ask the other spider? A: Found any good web sites lately?
---
Lot 1008 Linderman Drive Coober Pedy South Australia 5723 Phone + 61 8 8672 5840 Mob. Ph: 0427 815 561
.....................................................
London Metals Exchange Prices ($US) and stockpile (tons) - copper, aluminium, lead, tin, nickel, zinc
USA New York city: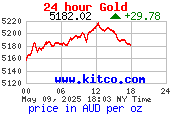 Email: Because of SPAM this address is not hyperlinked -
opalminer followed by @ followed by webopal followed by dot followed by com
---
This site hosted by
---
---